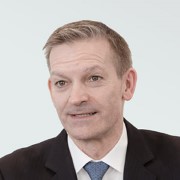 "Quilter is here for a reason – to help create prosperity for the generations of today and tomorrow."

Paul Feeney, Chief Executive Officer
Quilter's purpose
We are committed to operating our business responsibly, for the long-term benefit of all our stakeholders.
We help customers to be financially secure and achieve their financial goals and we also help colleagues, financial advisers and society to thrive and prosper through our long-term positive relationships. While for shareholders we strive to deliver sustainable returns over the long term.
We call this Shared Prosperity.