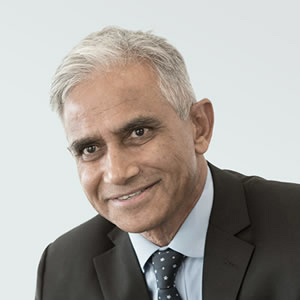 Dr Suresh Kana was appointed to the Board as an independent non-executive director in August 2018 and is a member of the Audit Committee and Corporate Governance and Nominations Committee.
Dr Kana is a highly experienced, South African businessman who has spent over three decades working in various roles at PwC, most recently as Chief Executive Officer and Territory Senior Partner of PwC Africa. He has a wealth of South African business, public company and corporate governance experience. Dr Kana is currently Chairman of of Murray & Robert Holdings Limited, which is listed on the Johannesburg Stock Exchange ('JSE'). He is also an independent non-executive director of JSE Limited and a member of its Audit, Risk and SRO Committees, Chairman of the Financial Reporting Standards Council (the Statutory body in South Africa setting Accounting Standards), and a Member of the Illovo Sugar Limited Advisory Panel. In addition, he is Deputy Chair of the Integrated Reporting Committee of South Africa.
Dr Kana became Chairman of South Africa's King Committee on Corporate Governance on 1 October 2018 and was appointed as a Trustee of the International Financial Reporting Standards Foundation with effect from 1 January 2019. Dr Kana was Chairman of Imperial Holdings Limited until November 2018.