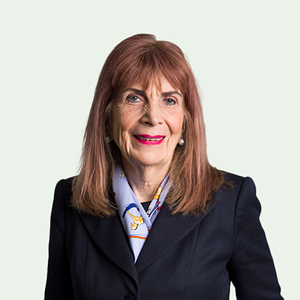 Appointed: June 2018
Skills and experience:
Ruth Markland, a solicitor and previously Managing Partner of Freshfields Bruckhaus Deringer's Asia business, has a wealth of FTSE-100 Board experience. She spent over 10 years on the Boards of Standard Chartered plc and Sage Group plc, where she served as Senior Independent Director and Chair of the Remuneration Committees. Ruth was also an independent Non-executive Director of Deloitte LLP for five years until May 2020 and is a member of the Supervisory Board of Arcadis NV. She has a strong understanding of corporate governance and Boardroom dynamics, enabling her to act as a helpful sounding board for the Chair and other Board members. Ruth was appointed Chair of the Board Remuneration Committee in May 2020, having served as a member since joining the Board. Her extensive knowledge of remuneration governance and best practice, together with her deep understanding of the remuneration framework at Quilter, have enabled her to have an immediate impact in this new role.
Board Committee membership:
Board Remuneration Committee (Chair)
Board Audit Committee
Board Corporate Governance and Nominations Committee